The Empirical Data Strike Back
Ed Wallace
Aug. 28, 2009
Special to the Star-Telegram
The empirical data already point to an inescapable conclusion: Shipping high-paying manufacturing jobs overseas only leaves you with fewer consumers whose disposable income can advance consumerism. So, one will have lower wages chasing ever-lower prices, and that's a downward spiral that only has one ending.
There's better than even odds that we will soon hear positive financial news, not only out of Detroit but possibly worldwide, concerning the automotive companies' financial statements. Some people will take this news as proof that the auto world has turned positive, but that's premature; whether it's a real and even semi-permanent turnaround is still up in the air.
Here are the reasons why we will have upbeat automotive news in at least the near term. First, because automobile sales fell in the first seven months of this year, most manufacturers from Detroit to Tokyo shut their factories for months to burn off excess inventory. It worked; many dealers were short on inventory to sell this summer even before the CARS program kicked in.
Second, car companies make their profits from producing and selling their vehicles to new car dealers, not to the public. Because most dealers are now cautiously restocking their depleted inventories, production rates are up, which will make automobile production in the third quarter more profitable.
Third, many auto manufacturers had cut back their workforces substantially. In Detroit, the new hires coming onboard to handle the increased production are making just over half the hourly pay rate of those who lost those jobs, and they're getting fewer benefits.
And fourth, incentives costs are down slightly from this time a year ago; that's another expense shrinking as production rates rise.
This combination of higher production rates and lower incentive costs should vastly improve profitability for automakers when they report their quarterly earnings in the first week of October. Or not: If car sales slow in September after the CARS program ends, then dealers will in turn trim orders for the 2010 model year. And if that happens, then the increasingly expensive spiral of lower production and higher incentive costs could start the cycle over again.
Where GM Leads, Sales Follow
Some promising things have happened in the automotive market over the last five weeks – and in luxury makes that don't take many clunkers in trade. At this writing both Sewell Lexus of Fort Worth and Autobahn BMW were having an exceptional August, in each case likely the store's best month of the year. Do you wonder why, when their buyers are the people least likely to take advantage of any government subsidized program to enhance car sales, these makes should be doing so well?
Here's why: It's commonly held that GM is an old line car company and no longer the bellwether for North American sales, but nothing could be farther from the truth. Because when GM sells more cars, everyone in the industry sells more cars.
Remember when GM launched Zero Percent Financing for 60 months in the wake of the 9/11 attacks, which made October of 2001 the best month for new car sales in U.S. history? No one in the industry matched GM's incentives across their entire model line; yet as GM led the way, every other car company's sales skyrocketed. As a percentage, some automakers posted higher sales than GM did that month.
Fast forward to June of 2005: GM launched Employee Discounts for Everyone, and it happened all over again. This time no one matched GM's offer that first month, and yet by the time the final sale was counted, Americans had purchased 1.8 million new cars in June of 2005. That's double today's sales rate.
Yes, empirical data show that when GM is booming, it's good times for everyone and when GM is struggling, so is most everyone else. Yes, it's true that Ford has picked up some market share this summer, just as Subaru posted a 50 percent gain in business in July, but it's also true that the industry overall didn't perform very well in that period. Like it or not, when it comes to determining the success of the American auto industry, GM still leads the way and others benefit from its success – or struggle in its wake.
That simple truth demonstrates the difference between our perceptions of how things work and business reality, per empirical data.
Most have come to believe that GM is a basket case, not worthy of being considered one of the world's great automakers. But just look at sales in Latin America, which have done extremely well over the last half decade, or in China – and which car company is leading the pack in those two regions? GM.
Is This Condition Teachable?
So how do we, when the empirical evidence clearly shows what's happening, get it so wrong? It's a problem: We've been getting things wrong for far too long, and for the same reasons.
Does anyone remember when everyone was saying that if America got rid of its (inefficient and overpriced) manufacturing, it would free up all that money for "more productive" ventures; and consequently, Americans' wealth would rise to new heights, including personal wages for workers in our new high-tech industries? Well, that did happen from 1994 to 2000. And we had decent GDP growth and wage growth in that period. But it was only a temporary situation as we made the transition.
What went mostly unnoticed is that more American manufacturing migrated to countries with low production costs, such as China. In turn, cheaper goods flooded back into America from 1995 to 2001, setting off an almost unprecedented wave of consumerism. Then more people took jobs in the service sector to handle this new retail business boom, and sure enough money was freed up by sending our manufacturing overseas.
Apparently, much of that newly liberated money went into new high-tech stocks – which, we were told, was where our economy was headed in the future. Because of those increased capital flows, high-tech companies hired workers at good wages and their stocks went through the roof; everyone else felt richer, so they spent even more. We were told that this expanding and exciting situation was the new American economy.
It wasn't.
Many new companies in high tech never made a profit. So the wages of high-tech workers in the late nineties fell dramatically, and then the NASDAQ crashed.
Further, 92 percent of all increased consumer spending in that period came directly from the Baby Boomers, which already had the most money; the two following generations were poorer than we had been at their age. They still are: A 35-year-old male today earns only 65 cents for every dollar we earned in the same job at that age. That statistic alone explains why the bubble-based "recovery" during the past nine years was unsustainable.
Moreover, just like many skilled high-tech workers watched their wages fall after that industry collapsed, autoworkers' paychecks have shrunk over the past three years. While many cheered the reduction in pay and benefits for union manufacturing workers, as predicted that situation is now spreading to other industries and professions.
Dances with Lemmings
The next wrong perception is how to get America truly up and running for the long term. The common thought is that taxes are too high, that top-tier executive wages prove the viability of our vibrant economy, and that we need to ship even more manufacturing overseas; this will lower the cost of consumer goods even more to stimulate demand.
But the empirical data already point to one inescapable conclusion: Shipping high-paying manufacturing jobs overseas only leaves you with fewer consumers whose disposable income can advance consumerism. All you get is lower wages chasing ever-lower prices, and that's a downward spiral that only has one ending.
Now, if we look at the 10-year trend of real inflation adjusted GDP growth in America, we find that the strongest 15-year time-line occurred between 1954 and 1969. We had subdued growth as a percentage of the GDP from 1975 to 1983, and from there the line remains almost level until today. How could that be?
The strongest GDP growth against inflation came from 1954 to 1969 —when a CEO's pay averaged only 35 times the wages of the company's average worker. And the nominal tax rates for the richest Americans were obscene – and manufacturing growth in this country was bursting at the seams.
So with "expensive" manufacturing, high tax rates and CEO earnings low as compared to their workforces', America had its true golden age. That's the exact opposite of what we've come to believe.
And now we have reversed all of that, and nominal GDP against inflation has been stagnant at best for almost three decades. Of course this too is empirical data. Without further study to plug all the factors into the economic equation, it means little if anything, with one clear exception: That most of what we believe about what it takes to grow the economy is not based on historical data.
One thing is undeniable: If the America of the future is going to be based on service industries and ever decreasing wages and benefits, we will never get a handle on our twin deficits, and our dollar will be under more pressure as the world's reserve currency. At the same time, once incomes fall to a certain level, even the cheapest goods from overseas will still be too high to keep our consumer-based economy functioning properly.
You have to wonder: Who is behind this financial race to the bottom, and why have so many of us bought into their self-destructive logic?
Ed Wallace is a recipient of the Gerald R. Loeb Award for business journalism, given by the Anderson School of Business at UCLA, and is a member of the American Historical Association. He reviews new cars every Friday morning at 7:15 on Fox Four's Good Day, contributes articles to BusinessWeek Online and hosts the top-rated talk show, Wheels, 8:00 to 1:00 Saturdays on 570 KLIF. E-mail: wheels570@sbcglobal.net, and read all of Ed's work at his own highly respected news site, www.insideautomotive.com.
Complete article at:
==========
Ethanol fight bubbling up
By SARAH A. WEBSTER FREE PRESS AUTOMOTIVE EDITOR
August 28, 2009
Complaints from the ethanol industry keep getting louder.
Earlier this month, Free Press Washington correspondent Justin Hyde wrote about the brewing trouble.
Struggling ethanol makers want federal regulators to allow more ethanol to be mixed into regular gasoline. The current limit is 10% and they're hoping for 15%.
Big ethanol also backed bills to let the government force automakers to build more vehicles capable of running on E85, a blend of 85% ethanol and 15% gasoline.
Automakers oppose that measure, and also say more studies are needed about the impact that adding more ethanol to regular gasoline might have on existing vehicles.
But on Wednesday, ethanol makers scored a point for getting their side heard in the Wall Street Journal. In a front-page story, the journal said, "Turmoil in Biofuels Threatens Green Energy Revolution."
Ethanol is the largest biofuel sector, and the article went on to explain how the ethanol industry would suffer if the government didn't ramp up its support in the face of volatile demand and prices.
The article did have some words of cautions about biofuels.
"Not all biofuels may be worth the investment," it said, "because they divert land from food crops, are expensive to produce and may be eclipsed by the electric car. One fact cited against biofuels: If the entire U.S. supply of vegetable oils and animal fats were diverted to make biodiesel, production still would amount to at most 7% of U.S. diesel demand."
But there was nary a word from Detroit's automakers, who estimate the cost for the flex-fuel mandate at about $140 per vehicle.
You can bet they want their side heard, though. So expect this battle to keep heating up in the months ahead.
Complete article at:
==========
Op-Ed Contributor – 'Peak Oil' Is a Waste of Energy
By MICHAEL LYNCH
August 24, 2009
Amherst, Mass.
REMEMBER "peak oil"? It's the theory that geological scarcity will at some point make it impossible for global petroleum production to avoid falling, heralding the end of the oil age and, potentially, economic catastrophe. Well, just when we thought that the collapse in oil prices since last summer had put an end to such talk, along comes Fatih Birol, the top economist at the International Energy Agency, to insist that we'll reach the peak moment in 10 years, a decade sooner than most previous predictions (although a few ardent pessimists believe the moment of no return has already come and gone).
Like many Malthusian beliefs, peak oil theory has been promoted by a motivated group of scientists and laymen who base their conclusions on poor analyses of data and misinterpretations of technical material. But because the news media and prominent figures like James Schlesinger, a former secretary of energy, and the oilman T. Boone Pickens have taken peak oil seriously, the public is understandably alarmed.
A careful examination of the facts shows that most arguments about peak oil are based on anecdotal information, vague references and ignorance of how the oil industry goes about finding fields and extracting petroleum. And this has been demonstrated over and over again: the founder of the Association for the Study of Peak Oil first claimed in 1989 that the peak had already been reached, and Mr. Schlesinger argued a decade earlier that production was unlikely to ever go much higher.
Mr. Birol isn't the only one still worrying. One leading proponent of peak oil, the writer Paul Roberts, recently expressed shock to discover that the liquid coming out of the Ghawar Field in Saudi Arabia, the world's largest known deposit, is around 35 percent water and rising. But this is hardly a concern — the buildup is caused by the Saudis pumping seawater into the field to keep pressure up and make extraction easier. The global average for water in oil field yields is estimated to be as high as 75 percent.
Another critic, a prominent consultant and investor named Matthew Simmons, has raised concerns over oil engineers using "fuzzy logic" to estimate reservoir holdings. But fuzzy logic is a programming method that has been used since I was in graduate school in situations where the factors are hazy and variable — everything from physical science to international relations — and its track record in oil geology has been quite good.
But those are just the latest arguments — for the most part the peak-oil crowd rests its case on three major claims: that the world is discovering only one barrel for every three or four produced; that political instability in oil-producing countries puts us at an unprecedented risk of having the spigots turned off; and that we have already used half of the two trillion barrels of oil that the earth contained.
Let's take the rate-of-discovery argument first: it is a statement that reflects ignorance of industry terminology. When a new field is found, it is given a size estimate that indicates how much is thought to be recoverable at that point in time. But as years pass, the estimate is almost always revised upward, either because more pockets of oil are found in the field or because new technology makes it possible to extract oil that was previously unreachable. Yet because petroleum geologists don't report that additional recoverable oil as "newly discovered," the peak oil advocates tend to ignore it. In truth, the combination of new discoveries and revisions to size estimates of older fields has been keeping pace with production for many years.
A related argument — that the "easy oil" is gone and that extraction can only become more difficult and cost-ineffective — should be recognized as vague and irrelevant. Drillers in Persia a century ago certainly didn't consider their work easy, and the mechanized, computerized industry of today is a far sight from 19th-century mule-drawn rigs. Hundreds of fields that produce "easy oil" today were once thought technologically unreachable.
The latest acorn in the discovery debate is a recent increase in the overall estimated rate at which production is declining in large oil fields. This is assumed to be the result of the "superstraw" technologies that have become dominant over the past decade, which can drain fields faster than ever. True, because quicker extraction causes the fluid pressure in the field to drop rapidly, the wells become less and less productive over time. But this declining return on individual wells doesn't necessarily mean that whole fields are being cleaned out. As the Saudis have proved in recent years at Ghawar, additional investment — to find new deposits and drill new wells — can keep a field's overall production from falling.
When their shaky claims on geology are exposed, the peak-oil advocates tend to argue that today's geopolitical instability needs to be taken into consideration. But political risk is hardly new: a leading Communist labor organizer in the Baku oil industry in the early 1900s would later be known to the world as Josef Stalin.
When the large supply disruptions of 1973 and 1979 led to skyrocketing prices, nearly all oil experts said the underlying cause was resource scarcity and that prices would go ever higher in the future. The oil companies diversified their investments — Mobil even started buying up department stores! — and President Jimmy Carter pushed for the development of synthetic fuels like shale oil, arguing that markets were too myopic to realize the imminent need for substitutes. All sorts of policy wonks, energy consultants and Nobel-prize-winning economists jumped on the bandwagon to explain that prices would only go up — even though they had never done so historically. Prices instead proceeded to slide for two decades, rather as the tide ignored King Canute.
Just as, in the 1970s, it was the Arab oil embargo and the Iranian Revolution, today it is the invasion of Iraq and instability in Venezuela and Nigeria. But the solution, as ever, is for the industry to shift investment into new regions, and that's what it is doing. Yet peak-oil advocates take advantage of the inevitable delay in bringing this new production on line to claim that global production is on an irreversible decline.
In the end, perhaps the most misleading claim of the peak-oil advocates is that the earth was endowed with only 2 trillion barrels of "recoverable" oil. Actually, the consensus among geologists is that there are some 10 trillion barrels out there. A century ago, only 10 percent of it was considered recoverable, but improvements in technology should allow us to recover some 35 percent — another 2.5 trillion barrels — in an economically viable way. And this doesn't even include such potential sources as tar sands, which in time we may be able to efficiently tap.
Oil remains abundant, and the price will likely come down closer to the historical level of $30 a barrel as new supplies come forward in the deep waters off West Africa and Latin America, in East Africa, and perhaps in the Bakken oil shale fields of Montana and North Dakota. But that may not keep the Chicken Littles from convincing policymakers in Washington and elsewhere that oil, being finite, must increase in price. (That's the logic that led the Carter administration to create the Synthetic Fuels Corporation, a $3 billion boondoggle that never produced a gallon of useable fuel.)
This is not to say that we shouldn't keep looking for other cost-effective, low-pollution energy sources — why not broaden our options? But we can't let the false threat of disappearing oil lead the government to throw money away on harebrained renewable energy schemes or impose unnecessary and expensive conservation measures on a public already struggling through tough economic times.
Michael Lynch, the former director for Asian energy and security at the Center for International Studies at the Massachusetts Institute of Technology, is an energy consultant.
Complete article at:
==========
Peak oil and climate change — drowning in rhetoric
By Andrew McKillop
Online Journal Contributing Writer
These are both long-running or even stalwart themes of the late great consumer society. They only stretch back a decade or so to some people, but a whole lot further when you drill down a little — looking for the right ice cores or pockets of remaining oil and gas. Today they provide the base, or in
finance jargon the underlying security for an endless road show and conference business that stretches right around the world. Not only thousands of Web sites, TV shows, press reporters and publishing houses extract value from dwindling oil and changing climate, but big business and big government have also adopted and absorbed these themes. Both big business and big government now get plenty of traction from what some call the two Great Causes of Our Times.
==========
Rice University's Baker Institute for Public Policy …
Paper by Rice University's Baker Institute for Public Policy shows a clear increase in the size and influence of noncommercial traders, or "speculators," in the oil futures market since regulations were eased by the Commodities Futures Modernization Act of 2000. Speculators now constitute about 50 percent of those holding outstanding positions in the U.S. oil futures market, compared with only about 20 percent prior to 2002. The report also finds that the correlation between oil and the dollar has strengthened significantly over the past several years.
Get report here: www.bakerinstitute.org
==========
Low and behold : making the most of cheap oil
Edward L. Morse
Foreign affairs, volume 88 issue 5, September/October 2009, pp. 36-52.
==========
Gallagher: Paying to keep oil in the ground
Tuesday, August 11, 2009
The Guardian published the following opinion article by Kevin P. Gallagher on Friday, August 7th:
Paying to keep oil in the ground – Should the world pay Ecuador not to extract oil? President Rafael Correa's argument makes perfect economic sense
Kevin Gallagher
guardian.co.uk
Friday, August 7, 2009
Ecuador 's President Rafael Correa is often dismissed as a radical leftist. Such has been the response to his proposal that the world pay him not to extract oil from Yasuni National Park in the western Amazon. Yasuni is home to almost 850 million barrels of oil, or 20% of Ecuador 's reserves.
A closer look at Correa's proposal reveals that it comes straight out of an economics textbook, and makes perfect sense.
Ecuador has a national income of $7,500 in purchasing power terms, and the top 20% of Ecuadorans have more than half that income. More than half of Ecuador lives on less than $2 per day.
From where Ecuador sits on the global poverty and inequality ladder, the benefits outweigh the costs of extracting the oil. However, take into account the value of the park to the rest of the world, and the benefit-cost ratio shrinks. Its only rational then to ask the world to help pay for what it values.
In Ecuador 's case, the net benefits of the project are projected oil revenues minus the costs of extraction. A conservative estimate is that exploiting the oil would bring in $5.7bn in present value terms, or 10% of Ecuador 's GDP.
Cutting down the forest to extract oil could cost the country in terms of the other uses of the land that generated income, such as tourism, as well as in losses of biodiversity and carbon dioxide. Many of these benefits, however, may accrue to those outside Ecuador .
Ecuadoran economist Carlos Larrea has a model that tries to estimate some of the broader costs and benefits.
Yasuni is considered the most biodiverse park on the planet and has been named a Unesco Biosphere site. One hectare in the park has more species of trees than all of the United States and Canada combined. In addition to all sorts of flora, one can find ocelots, giant ant-eaters, white bellied spider monkeys, manatees and more.
People from across the world show they value this resource by travelling there – upwards of 20,000 per annum. However, Larrea estimates that those receipts amount to a mere $5m per year. Larrea also looked at losses to the use of other sectors due to degradation of the environment and estimated that to be small, at $56m.
The methodologies for analyses like these are in their infancy, as Frank Ackerman and Lisa Heinzerling show in their book Priceless: On Knowing the Price of Everything and the Value of Nothing. Indeed, the cost figures are gross underestimates. One thing that's missing from this calculation is what economists call the park's "option value". Many around the world derive utility from knowing there are white bellied spider monkeys out there and would be willing to pay to preserve them.
What is more, given that the park is one of the most diverse places in the world, there is a chance it could house the key to some future wonder drug and bring in even higher receipts than the oil. Finally, the park is home to the Waorini, an estimated 20,000 indigenous peoples who have a livelihood and culture that cannot be priced.
What ups the ante is climate change. The carbon dioxide emissions from extracting and burning the oil would be about 375 million tons, and emissions from deforestation would be 172 million – a total of 547 millions tons. The World Bank has estimated the abatement cost for carbon dioxide at $14 to $20 per ton (similar to the range in the pending Waxman-Markey legislation in the US Congress). The cost to the world to abate these emissions will be between $1.7bn and $2.4bn for the extraction and burning, and $909m for deforestation, for a total between $2.6bn and $3.7bn.
Correa proposes that Ecuador issue bonds for the value of the carbon dioxide emissions avoided by preserving the forest. He promises to park the funds at a neutral bank and only spend them on social development and alternative-energy projects in Ecuador . If a future government of Ecuador decides to exploit the oil, they have to repay the bondholders plus interest.
Preserving Yasuni is a rare win-win situation. The rich world (that created the climate problem) can help mitigate it in a relatively low-cost manner. Ecuador obtains the funds to help grow its relatively poor economy. Far from radical populism, this is economic efficiency at its finest.
guardian.co.uk © Guardian News and Media Limited 2009
Visit The Guardian and see other Gallagher columns:
==========
The Friday Rush: "Rush Limbaugh showed great restraint"? Please …
By Greg Lewis
Sometimes we're impressed by the way our now-weekly Rush Limbaugh commentary manages to almost write itself. On Thursday's Morning Joe, host Joe Scarborough said that Rush's reaction to the passing of Ted Kennedy "showed great restraint." A few hours later on Thursday's Rush Limbaugh Show, Rush played back that sound bite and agreed with the MSNBC morning host. "I did practice restraint," said Rush.
…
Read More
==========
AS IF LIMBAUGH AND BECK WEREN'T BAD ENOUGH, THE GRANDDADDY OF HATE RADIO IS BACK ON THE AIR
By Alexander Zaitchik, AlterNet
Bob Grant taught a generation of conservative talkers how to channel white rage, until a listener boycott helped push him off the air. Now he's back.
==========
Twitter For Dummies
Twitter, the simple-to-use microblogging service, offers immense benefits for businesses and organizations. Fire departments, political candidates, and C0EOs have used Twitter to share up-to-the-minute information. Laura Fitton, maybe better known by her Twitter handle – @Pistachio, has more than 10,000 followers on Twitter, and gives presentations on how to use Twitter to build business and personal opportunity. She's joined by Michael Gruen and Leslie Poston to share Twitter expertise in this easy-to-follow guide.
You'll discover how to get set up on Twitter, build a follower list, and find a voice for your tweets. Then you'll learn to use third party tools to link Twitter to other sites and incorporate it into business communication models.
Twitter For Dummies ~ Laura Fitton
==========
And now for the important news ….
By Argus Hamilton
Michael Jackson's death was ruled a homicide by the Los Angeles County coroner on Monday. It seems fitting that his death was every bit as weird as his life. He is survived by his parents, three children, four brothers, three sisters, six noses, a chimpanzee and five non-disclosure agreements.
http://www.JewishWorldReview.com
==========
three thousand words
Bruce Beattie
Daytona Beach News-Journal
Aug 30, 2009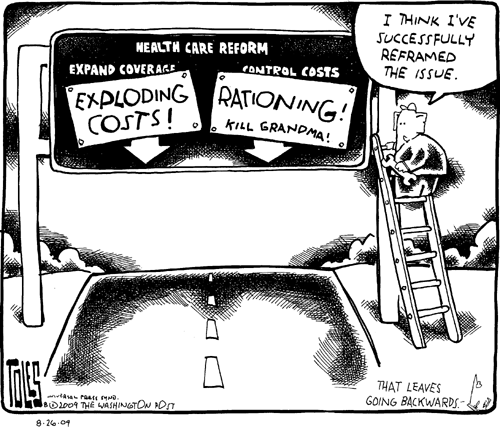 Tom Toles: The Issue, Reframed
(politicalirony.com)
Dwayne Booth, Mr. Fish: hippocrates taking his oath
(www.cagle.com)